The New York Times caught up with these events with a Saturday editorial (September 12th 2015) titled "Russia's Risky Moves in Syria." Their Editorial Board seems to believe that this is a new policy. They also reflect the basic message of American propaganda:
"The United States is carrying out airstrikes in Syria against the Islamic State, which is trying to establish a caliphate in Syria and Iraq, as well as struggling to train and arm moderate opposition groups that could secure territory taken from the extremists."
In fact the United States and its allies only carry out airstrikes in the eastern half of Syria and in Iraq.
The Islamist groups have a free run in western Syria. U.S. policy has not changed since May. Effectively the U.S. is allied with ISIS, Nusrah Front (aka Al Qaeda), and Muslim Brotherhood against the Ba'athist secular government of Syria.
The Sa'uds just got caught paying out a $700,000,000 bribe to one political party in Malaysia. That is hardly a major world power. You can only imagine how much money they throw around in the United States. Apparently enough to get free passes for the Sa'ud's allies in western Syria.
Turkey came in to the air war. They attacked Kurds, not the Islamists. The Turkish government is more Islamist than not. So don't expect much there -- they are also anti-Ba'athist and extremely anti-secular.
Russia started shipping in heavy guns, armored vehicles, AKs and ammo years ago. And that's using ships. It's not plane loads, it's shiploads.
Their guys have fought on the front lines in northern Syria for years. What, NY Times is new to YouTube? Posted selfies from Syria surprises anyone?
-- www.youtube.com/watch?v=IK0m9a6JJ80
The armor is Russian and so is the crew. There's more of that coming.
The Russians there are volunteers. Same as American Special Forces who embed with the various NGOs. And the Russians go in force. So far nobody's beheaded there.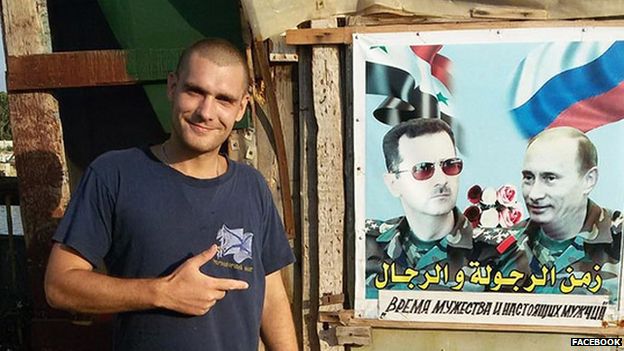 The new set up at Latakia will support SU-25 ground support and heavy helicopters capable of deterring Israeli use of U.S. Apache helicopters against anti-ISIS targets. Kamov Ka-28 "Helix" is in use all over, including India and South Korea. Drop a hundred KA-28s into western Syria and ISIS-Nusrah-MuBro use of heavy trucks for resupply can be stopped cold.
Foreign mercs continue to flow into Syria. More than half the ISIS fighters.
What we are seeing in Syria is adoption of Russian tactics from Chechnya. Nasty but necessary to avoid Islamist conquest. It was Russians who invented the helicopter dropped thermobaric bomb, not Syrians. The "barrel bomb." Expect to see more of that.
Meanwhile, the United States ships in heavy guns and millions of rounds of ammunition to Lebanon.
Those are 155mm howitzers. Old style U.s. artillery on the way to southeast Lebanon for a battle with Nusrah Front. That went well. For once the U.S. put its resources to the ground war against ISIS.
The pics that did not make it to social media involve Iranian trainers taking Lebanese army personnel through using GPS-based sighting gear to zero in these big guns. We also see these M-198s in use in Iraq for the sieges at Tikrit and the Little Zeb basin. If they can do the set ups, the same type of guns will be preferred for the final stages of the sieges underway at Ramadi and Fallujah.
For some reason Persian artillerymen dearly love these guns. It's a Quds Force thing. Maybe because they dig in well and then it's relatively easy to walk a grid. A very old design. Nothing was sacrificed with the M-198s trying to get light -- heavy is good.
The Russians do make a 155mm shell that goes through these things. Too bad there weren't a thousand extra troops, APCs, chops for close air support, and a half dozen M-198s on hand to defend Palmyra. ISIS took the town with 500 fighters.
The alternatives in Syria are clear: wipe out ISIS attack groups or give up.
Putin and these Russian troops identify the Islamists as existential enemies.